Book 2: Chrysalis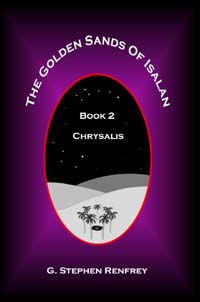 The Golden Sands Of Isalan: Book 2 - Chrysalis is the second book of the Golden Sands saga. In it, Sarah's numinosity develops as she engages the challenges destiny has placed in her path. Poised at the dawn of womanhood, she discovers the importance of friends and family, courage and love, and glimpses what providence has in store for her.

A dark specter plagues the Great Desert of Serenia and threatens to descend upon Isalan. The city is gripped with fear as rumors of the menace spread like a sand storm. Most prepare for the worst but Sarah is intrigued by the tales. Haunted by a dream and mystified by an old medallion, she is compelled to muster her courage and confront her fears when she finds herself face to face with the Desert Phantom. In this adventure, Sarah learns about the nature of rumor and social injustice.

An old lamp, a mysterious ring, and a magical chalice are parts of a puzzle that Sarah must piece together to undo an ancient curse. She is joined by a band of friends and family in a quest that takes her from a sunken ship in the Argarian Sea to a secret oasis in the heart of the Great Desert. Guided by a cryptic poem and an enchanted amulet, they race against time to unlock the mystery of The Oasis Of Inara.

Book 2 is now available in multiple formats.

You can purchase a paperback copy by clicking "HERE".
To purchase an e-book version (ePub format), click "HERE".
To purchase a Kindle version, click "HERE".